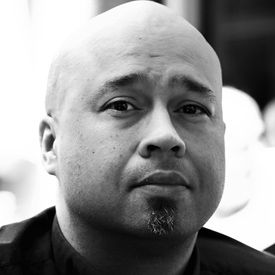 Over 15 years of experience in software design, development & implementation and over 25 years in sales. Mostly self-taught and still learning every day by watching others and being open for everything new or different.

Driven by innovation, passionate about creativity, striving to make the world around me a bit more happy; whether it's through music, food, photography or software.

Creativity is not a skill, it's a way of life.


Experience

CTO & Co-Founder @ Silver Essence
January 2010 - Present
Lead architect for innovation on the patented Silver Essence Semantic Rapid Application Development Platform. Front- and Back-end developer using ASP.NET, C#, XML, MS SQL, HTML, Javascript and CSS.

Responsible for the functional and technical design of the Silver development layer and the roll-out of vertical branch solutions that are created with it.


Product Manager Exact@ CANE
April 2005 - December 2009
Responsible for the design, development and certification of new Custom Solutions for Exact e-Synergy (Classic ASP and .NET) and Exact Globe. This included Cane Education (targeted at commercial educational institutes) and Cane Projects (targeted at project driven organizations). Besides these vertical solutions, this also included additional modules for Exact Software like SubSystems, Checklists and AccountLinks (advanced CRM), GLX (financial integrator between Exact Synergy & Globe) and others.

Because of this role and the inter-dependency of the Exact Software, I became a member of the Exact Quality Commision; an advisory board with a strong focus in improving both Exact Synergy and Exact Globe.

Also involved in setting up the Cane University; an internal training center for new employees.


Senior Consultant @ CANE
September 2003 - March 2005
Implementing Exact Globe and e-Synergy as well as designing and programming Custom Solutions for e-Synergy using ASP and VB6. Creating reports using Crystal Reports, Exact Excel Add-In and Sumatra Builder. Training both key- and end-users.

Also responsible for the Internal Network Administration and the Internal Training of new employees.


Exact Consultant @ Actall
March 1999 - August 2003
Account manager and Sales rep. Also supporting and implementing Exact for Windows/DOS, Exact Globe and e-Synergy. Building reports with Sumatra Software and Excel.

Also responsible for the Customer Service Desk, the Internal Exact Implementation and the Internal Training of new employees.


Show previous experiences
A & R Manager @ European Artists & Relations Services (EARS)
January 1990 - September 1999
Independent Artist & Relations Manager, scouting talent, touring with artists and organizing promotional tours for artists including Ron Thal, Shawn Lane, Alphonso Johnson.


Store Manager @ Carvin Music Store
September 1996 - August 1998
Managing a sales-team of 6 employees in selling Musical Instruments. Responsible for targeted revenue and purchase as well as internal automation and financial administration.


Account Manager @ Music Import Services
September 1994 - August 1996
Responsible for account management, visiting music shops throughout the Netherlands and Belgium. Primarily responsible for overall revenue and customer satisfaction.

Also involved in the import of products from Europe, USA, Asia and Russia. Carried brands included Sovtek, Electro Harmonix, Breedlove Acoustic Guitars, Vigier Guitars & Basses, Midiman Computer Interfaces and Rivera Amplification.


Session Musician & Composer @ Independent
June 1983 - September 1995
Independent composer & arranger, mainly involved in writing for commercials and soundtracks. As a composer also leading my own Big Band.

As a session musician busy as a bass player, performing with many different bands and orchestras. Also active in studio recordings.


Sales & Repair @ Peter Verspuy Music
September 1993 - August 1994
Selling Musical Instruments with a specialty in Guitars, Bass Guitars and Amplification.


Sales & Repair @ Tierolff Muziekcentrale
November 1999 - August 1993
Selling Musical Instruments with a specialty in Guitars, Bass Guitars and Amplification.